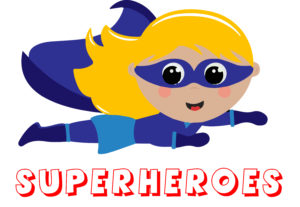 In November 2016 NLP4Kids launched a new not-for-profit branch to the company – Superheroes Ltd.
The aims of Superheroes Ltd is to provide personal development to children, parents, teachers and other defined groups for the purposes of increasing mental wellbeing. We offer training, learning programmes and mentoring to raise measurable standards of attainment, confidence and resilience. We also provide therapeutic and emotional support and create publications and products that underpin the aims stated above.
The directors of Superheroes are:
Gemma Bailey – Director of NLP4Kids, People Building and Superheroes. NLP trainer, therapist and author. I've run my own self development company since 2005 and was a qualified nursery nurse managing private day nurseries before hand.
Alan Broom – Used to work for NLP4Kids going back 3 years and still helps out from time to time. He is a dad of 3 children and works as a health and safety officer for Contactum.
Marie Doherty – An admin assistant for People Building for 12 months who previously studied law.
Zoe Hare – An apprentice at People Building who has just completed her level 2 training and is set to stay with the company to do level 3.
If you would be interested in delivering Superheroes work or you are a school or group that would like to have a Superhero deliver some sessions for you, please call us on 0203 6677294.